[Daily Updates] UMN Medical School Surgery Brigade - February 2020
UMN Medical School Surgery Mission Trip
One World Surgery Center, Honduras, February 2020
Surgical Oncologist Todd Tuttle, MD, leads two medical mission trips annually, providing surgical care to those in Honduras who do not have access to safe, timely, and readily available surgical care. Dr. Tuttle, who is currently leading his 17th one-week medical mission trip to One World Surgery in Honduras, is joined by a multidisciplinary team from the Univesity of Minnesota Medical School, including clinicians from medical oncology, anesthesiology, and radiology. Working alongside a local team, these volunteers will perform life-changing surgeries.     
The Holy Family Surgery Center, run by on-site Medical Director Dr. Merlin Antúnez, has three operating rooms, seven overnight recovery bays, a dental clinic and an eye clinic.  In 2019, the number of surgeries topped 1,300 with 10,629 consults and volunteers committing 32,360 hours of their time.  The Holy Family Surgery Center is fully staffed by those who live in Honduras, allowing patients to have continuity of care following surgery. Learn More  
Surgery residents Matt Bobel, MD, Harika Nalluri, MD and Julia Nugent, MD volunteer surgeons on this trip, provide daily updates sharing a first-hand report from the operating room, clinic, and the Nuestros Pequeños Hermanos, a children's home funded and operated in conjunction with the Holy Family Surgery Center by One World Surgery.
Follow along each day this week to learn more about the inspiring partnership where volunteers work to make people's lives better.
---
Latest Update:
Day 5 - Thursday, February 13, 2020
Matt Bobel, MD -  University of Minnesota Surgery Resident recap: 
One final surgery and saw 25 clinic patients.

Drs. Tuttle, Hoven, Blaes, and Burke went with Dr. Antunez and One World Surgery staff to a meeting with local political figures and key stakeholders to discuss creating partnerships to better treat and manage breast cancer in Honduras.

Some of the group went on a hike around the ranch.

We played futbol and basketball with the children on the ranch.

Everyone prepared for the conference on Friday.
A collaborative team of UMN Surgery Residents Drs. Matt Bobel, Harika Nalluri and Julia Nugent with Surgery Alum Dr. Erin Burke performing life-changing surgery. 
UMN Anesthesiologist Dr. Ben Matelich in the operating room. 
Dr. Todd Tuttle and Carlos Claros Berlioz, Administrative Director. 
---
Day 4 - Wednesday, February 12, 2020
Matt Bobel, MD -  University of Minnesota Surgery Resident recap: 
Another great way to start the day with delicious chilaquiles for breakfast. 
We welcomed today Dr. Anne Blaes and Dr. Heather Beckwith along with their sons.
Dr. Todd Tuttle and Surgery Alum Dr. Erin Burke operated together for the first time since she graduated.  Dr. Burke was a volunteer surgeon as a resident and has returned to volunteer this year.
The operating team completed 7 surgeries today.
Anesthesiologist Dr. Ben Matelich taught Honduran doctors how to perform local and regional anesthesia blocks.
Singing skills were on display with Karaoke during the evening. 
Said goodbye to those on the team that needed to head back early.
We are fully emerged in the life of the ranch helping with chores, cooking, and cleaning.  
Dr. Erin Burke consulting with a patient prior to her surgery. 
Dr. Todd Tuttle meeting with a patient answering her questions about her upcoming surgery. 
Great to have our Radiology colleagues with us! 
Another rewarding day in the operating room providing care for our Honduran patients! 
---
Day 3 - Tuesday, February 11, 2020
Harika Nalluri, MD and Julia Nugent, MD -  University of Minnesota Surgery Residents recap a busy OR schedule: 
Delicious guacamole for breakfast!
We started early again with cases at 7 am.  Did 6 surgeries in 3 ORs with 2 surgeons ranging from General to Colorectal Surgery.
In the clinic, we did multiple procedures such as skin cyst removals. 
Collaboration with radiologist and ultrasound technician continued in the clinic with real-time imaging of abdominal complaints. 
Students took an active role in assisting with cases.
Many crucial interviews with patients in the perioperative period.
We also played games with kids (soccer, puzzles) in the evening. 
The team loves having their radiology colleagues Dr. Noelle Hoven & Emily T., present this week to provide prompt multidisciplinary care. They will also be teaching on Friday at the One World Surgery Breast Cancer Education Conference.
Another busy day in the operating room providing surgical care for Honduran patients.  
Our own Department of Surgery Surgical Oncology Division Administrator is volunteering her time this week! 
Dinner with the godchildren Dr. Tuttle and his family sponsor.
 Our evenings are spent as a group helping with chores, cooking and cleaning up.   
---
Day 2 - Monday, February 10, 2020
Matt Bobel, MD, University of Minnesota Surgery Resident recaps a busy 1st day: 
The whole day truly represented the following Mother Theresa quote, which NPH Honduras/One World Surgery uses as a part of their mission: "I can do things you cannot, you can do things I cannot; together we can do great things."    
Everyone woke up early to get ready for the first full day of clinical work.

Despite our early wake-up time, the Honduran patients that we serve get up even earlier. The first surgical and clinic patients of the day are asked to arrive around 5 am to check-in. Since many patients take multiple modes of transportation (walking, bus, car, etc.) to arrive at the surgery center, this results in hours of travel before arriving.

We did 6 operations and saw 30-40 clinic patients.

It was wonderful to have our radiology colleagues (

Dr. Noelle Hoven UMN Health, and Emily Thomas, ultrasound tech from Park Nicollet) 

with us in the clinic for immediate imaging ability. 
After a long day of work, we came back for family-style dinner, relaxation, and games before heading to bed.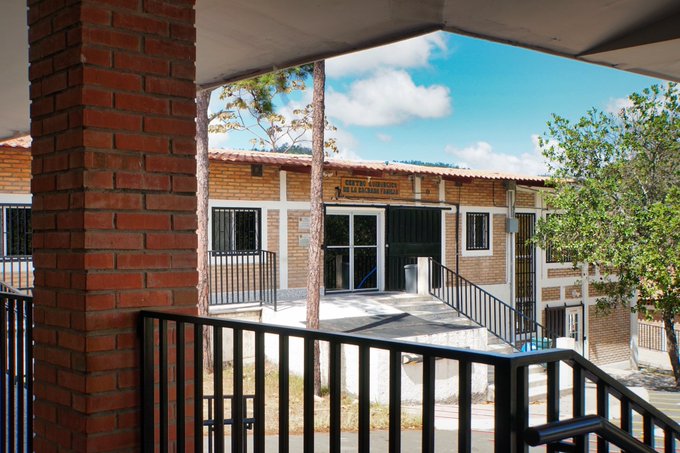 World Surgery's three cornerstone programs include operating global surgery centers, leading surgical medical missions and supporting local medical communities through education and training.

Our University of Minnesota Surgery team for the week!  
Surgical alum Dr. Erin Burke who is currently an Assistant Professor of Surgery at the University of Kentucky, was a volunteer during her time as a surgery resident at UMN.    
 Life-changing surgeries are taking place all day long in the two operating rooms.   
---
Day 1- Sunday, February 9, 2020
Dr. Tuttle starts off the week leading volunteers on a hike through the grounds of the children's home Nuestros Pequeños Hermanos (NPH), a 2,000-acre ranch where the Holy Family Surgery Center is located approximately one hour northeast of Tegucigalpa.  Gearing up for a busy week ahead, clinicians tour the operating room, review clinic patients and plan operating cases for the coming week.   The day concludes with games and relaxation at the Moscati Center (volunteer accommodations).   Tomorrow will be a busy but rewarding day with a full day of clinics and two operating rooms running all day.
Dr. Tuttle's crew. Off for a tour of the grounds, which includes children's home Nuestros Pequeños Hermanos (NPH)  (2,000 acres) and then orientation.
Surgery residents Harika Nalluri, MD and Julia Nugent, MD. Getting ready for their weeklong surgical brigade! 
Clinicians, including our own Surgical Alum Dr. Erin Burke, planning for the 1st day, reviewing medical records and developing a case plan for each of the patients who will be seen this week.  
Outside of the operating room Dr. Tuttle spending time with the children at the Children's Home.